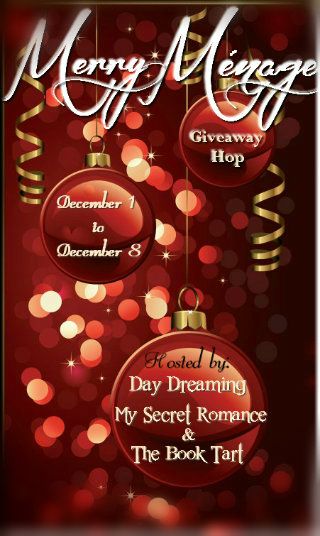 5 Tips to Make Your

Ménage

even Merrier!
A Big ol' Bed -- A regular standard queen won't due. Think California King, and you'll have plenty of room to rock it.
Some Fun Toys -- What? It's multiple partners enough? Well, yes, but it could be even better. *wink*
Naked Twister -- Put an adult spin on that classic game. Strip, spin and see where you all end up. Bonus points if you have an observer, ahem voyeur, who can just call out positions.
No Jealousy -- Yes, we do have to get a little bit serious. If you're the type to get jealous when your partner glances at a hottie walking by, mmmm: Maybe not for you.
A Really Good Lube -- Sorry, but it must be said. It's more slippery when it's good and wet.
Those are my suggestions to make your
ménage

even merrier. Tell me: what else would you need? I'm giving away a $5 certificate to Amazon or B&N, and an electronic .pdf copy of one of my backlist books (winners' choice). Open to international. Just leave a comment and valid email address. Winner will be chosen at random at the end of the Hop.
Make sure to visit the other authors and bloggers on this Hop, and here's a look at my latest
ménage
.
The Vampire, The Witch & The Werewolf 4: The Wolfe Pack
Silver Ashe can't let go of the desire to find her birth father and the urge to join a pack. Against the wishes of her brother, Trevor, and her vampire-lover, Nick, Silver leaves New Orleans for the woods of Louisiana.
As the guard and a dominant member of the Wolfe Pack, Viktor isn't too sure of the city-dwelling stranger who comes trespassing. With the lack of female werewolves, Viktor soon sees Silver as a potential mate. Too bad she's already spoken for by a bloodsucker.
Trapped between worlds, Silver's faced with choosing between the lover she's known most of her life, and the budding relationship with Viktor, where her future may lay. It'll take some sweet talking and a whole lot of loving for Silver to find her place within the pack.
Come join our Merry
Ménage
Giveaway Hop hosted by Day Dreaming,
My Secret Romance and The Book Tart!
Need a new bedtime story to light your fire? Looking for something with a little heat to warm you during the cold holiday season? Feel like decking the halls naughty style? Well then, come join us as we stand under the mistletoe for this wickedly sexy giveaway hop! The more the merrier! Have no worries, we'll help you trim your trees, deck yours halls, and spark that fire!